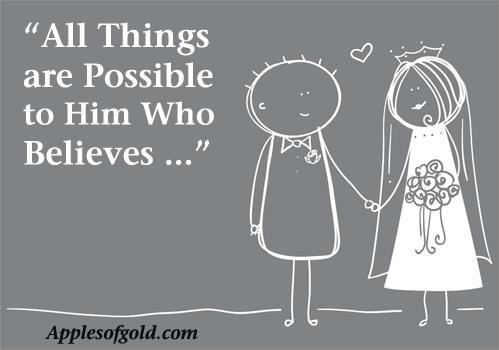 A Christian wedding isn't just a celebration of love between two people. It's also a time to praise God for bringing those two people together and for giving them the ability to love one another as He loved them. Although this kind of love is out of reach by human standards, He makes it possible, and Christian wedding bands are a symbol of this gift of God.
In Mark 9, Jesus tells a father desperate for a miracle for his son that "All things are possible to him who believes." Immediately the father cries out, "I do believe; help my unbelief." Faith despite doubts was essential for this father and it's essential for us, too. Just as Jesus restored this man's son after his expression of faith, God often does the seemingly impossible when we believe in Him.
True love between two people is truly a miracle, and it's one that only God can make possible. In a Christian marriage, God brings together two imperfect people, molding them into one and allowing each to make the other better. Christian wedding bands celebrate the wonder of two lives sharing life as one.
Bible verse rings send powerful messages as they utilize portions of God's word within styles ranging from minimalistic to ornate. By wearing wedding bands that contain Scripture, you honor the role that your faith played in bringing you and the one you love together, as well as the part it plays in binding you together in love.
Many wedding ceremonies declare the bride and groom "to be husband and wife, in the name of the Father, and of the Son, and of the Holy Spirit." Rings that contain representations of the persons of God, in whose name you and the one you love are joined as husband and wife, serve as continual reminders that are joined together, not only before men but before your creator.
From the outside, the "Father, Son, and Holy Spirit" Wedding Band in 14K Gold looks like a plain flat yellow gold band. However, inside it contains a reminder of the trinity: interspersed with crosses, the words "In the name of the Father," "In the name of the Son" and "In the name of the Holy Spirit" are laser inscribed. This simple but meaningful ring is available in your choice of widths for a perfect fit.
Christian wedding bands that feature symbols of the Holy Spirit are pictures of the strength that God gives us through His Spirit to love one another selflessly. For example, the Christian Dove Diamond Trinity Ring in 14K White Gold features a silhouette of a dove—a symbol of the holy spirit—craved simply but with strength. A vertical line of three diamonds, representing the three persons of the trinity, accents this asymmetrical modern style.
The miracle of true love is one of the greatest earthly pictures of God's love. If you've seen this wonder in your life, why not celebrate the miracle of love made possible with one of Apples of Gold's Christian wedding bands?
Category: Christian Jewelry, Diamond Rings, Wedding Bands, Wedding Bands for Men, Wedding Jewelry, Wedding Rings